loading...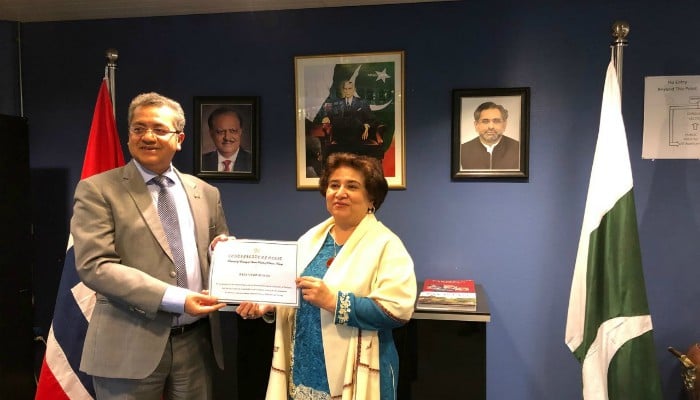 Renowned Norwegian-Pakistani businessman Raja Nasir Hussain was highly appreciated by the embassy for his significant role in the enhancement of bilateral economic and trade ties, specifically in the growth of Norwegian investment in Pakistan.
Besides looking after his personal business, Hussain occupies senior positions at various companies based in Norway, including the international company Endow Invest.
Hussain has also been working for better business ties between Pakistan and Norway for three decades, including the last seven year's services as Honorary Investment Counsellor of Pakistan to Norway.
Presenting an exceptional certificate in admiration for Hussain's services for Pakistan, Pakistan ambassador to Norway Riffat Masood said: "We highly respect Raja Nasir's commitment and his regard for his parent land Pakistan, especially his efforts for bringing foreign investment into the country."
The appreciation certificate was handed over to Hussain in a ceremony held at the Pakistan Embassy in Oslo, which was attended by a large number of people.
Speaking on the occasion, Hussain praised Ambassador Masood and said he is really impressed by her for transparently and honestly dealing with Norwegian firms to bring their investment to Pakistan.
"Foreign investment has been an important tool for development of a country and Pakistan can also prosper by transparently utilizing the foreign investment," he added.
Hussain has so far hosted two prime ministers of Pakistan and one Norwegian prime minister in order to boost bilateral relations, and has also used successful back-channel diplomacy for growth of foreign investment in Pakistan.
The businessman's role in Norwegian investment in telecommunication and many other sectors in Pakistan is also of significance. The credit for billions of dollars of foreign investment in Pakistan goes to him during the last seven years of his tenure as the Investment Counsellor of Pakistan to Norway.
In the recent years, Hussain has brought Norwegian investment projects in shipping, airline, hydro power, solar energy and banking to Pakistan. These projects are expected to be implemented soon.
Source Link: Norwegian-Pakistani businessman praised for pulling investment into Pakistan | World