loading...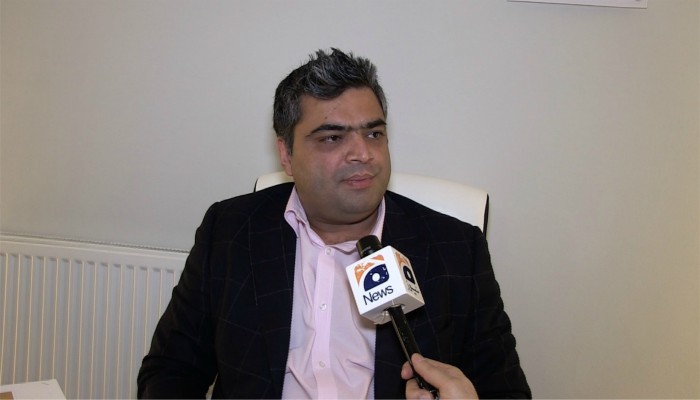 LONDON: A leading British-Pakistani investment manager has said that investors worried over conflicts in the Middle East and looming Brexit are now looking towards Pakistan to invest in Gwadar for better profit returns.
Asim Bhutto, who manages leading investment company Westbury Investments in the UK, said that due to Brexit and political instability and conflict in the Middle East, investors from Britain, Europe and elsewhere are looking for investment in countries such as Pakistan and in the upcoming long-term and profitable projects such as the China-Pakistan Economic Corridor (CPEC).
"Markets in Middle East and Europe are not doing well due to uncertainty surrounding Brexit and the ongoing conflicts whereas return and profit in Pakistan is much better than what an investor can get anywhere else. We as Westbury Investments have been involved in investments business for over 10 years and we have decided to turn to Pakistan for our projects keeping in view the demands of international investors. It's also a payback time for us," he said.
Bhutto said that Chief Minister Punjab Shehbaz Sharif has done great work in Punjab by focusing on developing its infrastructure to make it attractive not only to visitors but also to foreign investors.
He was of the opinion that Punjab's property market is fully regulated and Lahore can be called one of the safest Pakistani cities.
"The kind of infrastructure Shahbaz Sharif has developed in the province doesn't exist anywhere else in Pakistan. Lahore's infrastructure is amongst the best and that's the reason why we chose Lahore for our first project. The whole idea of starting this project in Lahore is to give access to overseas Pakistanis to something which has not been on offer ever before. We want to play the role of bridge between UK and Pakistan," he said.
The investor said that his company is involved in building a luxury tower block which will have 207 service apartments in Lahore's Gulberg. "This is the first of its kind anywhere in Pakistan where four-star service will be made available to the residents of the apartment building round the clock," he said, adding that he is working on these projects with help from a leading Chinese construction company.
"This Chinese company is number 6 in China and has a good reputation of delivering mega luxury projects. The Chinese company approached us and expressed its entry in Pakistan but through a grand plan which is now happening through us."
Asim Bhutto said that demand in Pakistan for quality residential projects has gone up because of CPEC.
"Chinese executives linked with CPEC are living in Lahore and Islamabad whereas the workforce is living in Gwadar. At this moment, the demand has surpassed the supply for luxury living and therefore a luxury brand was needed. We are of the view that Pakistan and China have shared interested and shared future hence we made a leading Chinese company our partner for this project," he said.
Admitting that overseas Pakistanis have had bad experience of investing in Pakistan, Bhutto said that is changing now as Pakistan has firmed up laws against the land mafia and corrupt elements.
"We want to give confidence to overseas Pakistanis who have complained of being wronged in the real estate market. There have been widespread complaints of customers being ripped off and their properties being taken over by the gangs but what we are doing is unique and there is zero chance of any wrongdoing by anyone as from first till last it's the customers who will have control. Our projects are specific and tailor made for overseas Pakistanis. Only registered clients can make any changes to their papers, nobody else," said Asim Bhutto.
Source Link: Brexit, mideast conflicts making investors look towards CPEC, investor says | World