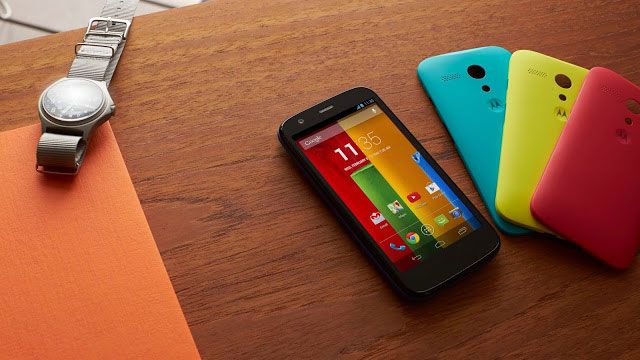 Announced: April 2018
Released: May 2018
2018's Moto G phones, the Moto G6 and Moto G6 Plus were the two main handsets in a trio (more on the third handset in the next slide). 
Look at their numbers alone and it'll seem Lenovo radically increased the size of their screens. The Moto G6 has a 5.7-inch display, the G6 Plus a 5.9-inch one.
However, they only sound so large because these are taller 18:9 screens with less wasted space above and below the display. The Moto G6 is actually a fraction less wide than the Moto G5S, and that phone has a 5.2-inch screen. They won't stretch your pocket.
The series once again shows how little there often is to gain by spending double or triple the price. And even the design has moved on a step or ten since the G5 family.
The Moto G6 and G6 Plus have metal sides and a curved glass rear, reminding us of the Samsung Galaxy S6, a classic high-end phone design of a few years past.
So what do you miss out on by spending less on the normal Moto G6? Aside from the slightly larger screen and 0.3mm thinner frame, the G6 Plus has a faster processor and a better camera.
The CPU difference is obvious. With a Moto G6 you get a Snapdragon 450, or the Snapdragon 630 with the Plus. The Plus has a little more CPU power and slightly more graphics power but, whisper this one, you're unlikely to notice that much of a gap in real-world performance.
The phones' cameras sound a lot closer, but are likely to have more meaningful differences out on the street. Both have a 12-megapixel rear sensor with a secondary lower-res sensor for bokeh blurring, but their sensors aren't the same. The G6 Plus's has dual pixel phase detection autofocus, a feature baked into the sensor itself. It has a slightly faster f/1.7 lens too.
With any luck the G6 Plus has the same sensor as some of the most expensive phones around (not that it guarantees the same image quality).
It looks like the Moto G series has done it again, beating what Nokia, Samsung and LG offer at the price, and with a more accessible slant than the otherwise competitive alternatives from Honor, like the 9 Lite.
The Moto G6 Plus costs £269, but apparently is not launching in the US. The Moto G6 costs $249 (£219).
Source Link: A history of the Moto G series: Motorola's most successful phone series ever