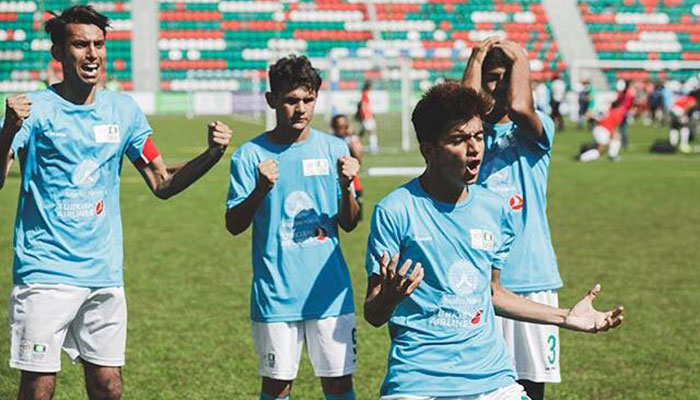 Pakistan will be facing Uzbekistan in the final of the Street Child World Cup in Russia today.
They had beaten Indonesia in the semi-final on Monday and will be playing their first-ever final. 
The boys in green outclassed Indonesia 5-4 on penalties to secure their place in the final, where they will face Uzbekistan for the trophy.
The match had remained goal-less draw when the final whistle blew. However, in penalty shoot-outs, both the teams managed to score four goals each. In additional penalties, Indonesia missed the target after conceding a goal to Pakistan.
On the other hand, Uzbekistan had beaten Burundi in their semi-final encounter 1-0.
Speaking after the semi-final win against Indonesia, Pakistan captain  Mohammad Abdullah said he is confident his players would put up a good show in the final as well.
"We are happy that we have qualified for the final. Insha'Allah we will keep Pakistan's flag high in the final as well," Abdullah told Geo.tv from Moscow.
"The boys are highly motivated," he had added.
Abdur Rasheed, the head coach of Muslim Hands Pakistan Street Child team, told Geo.tv that the team would give its best to bring the gift of the trophy home.
"I request everyone in Pakistan to pray for our success," Rasheed said. "Insha'Allah, if the boys play according to their abilities then we will gift victory to the nation."
Earlier in the tournament, Pakistan had played a goal-less equaliser against Uzbekistan in the first match, then defeated Russia 3-1 and Tajikistan 2-0 on way to the semi-final. 
Source Link: Pakistan to face Uzbekistan in Street Child Football World Cup final today | Sports