BIRMINGHAM: Young British Pakistani boxer Hamza Sheeraz on Monday won the World boxing Organization (WBO) super welterweight European champion.
Hamza, who's only 20 years old was fighting against local Ryan Kelly for the title at Arena Birmingham. The fight which was scheduled to last 10 rounds was over in 6th round.
From the beginning, Hamza proved too much for his opponent and in the sixth round, a straight right knocked Ryan Kelly down. The referee started the countdown but Kelly was up on his feet again. Although the fight resumed, Kelly could not recover. As Hamza threw a flurry of punches on his opponent, the referee had to stop the fight as Rayan was in no position to continue and Hamza was declared the winner.
Speaking Exclusively to Geo News after the fight , Hamza humbly thanked Allah for his success. He said that he has been boxing for 12 years now and started when he's was just 8-years-old. He had quite a successful amateur career with over one hundred fights and represented England before turning pro.
In his brief professional Boxing career, his success rate has been one hundred percent so far, with 10 victories under his belt, including his first major title victory on Saturday night, which he thinks is not a bad going.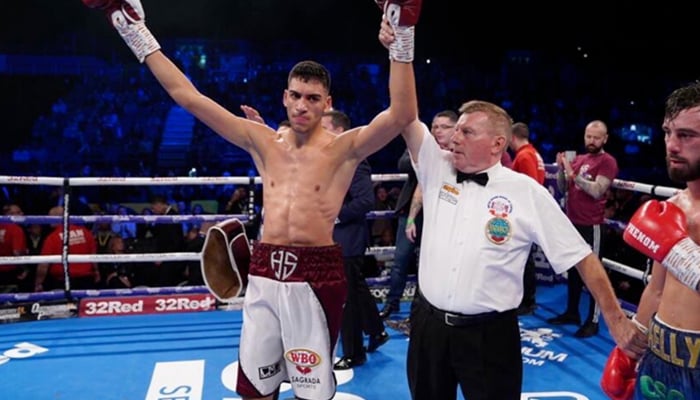 Replying to a question about why he choose to go into boxing instead of cricket or any other sports, Hamza said, "Its true that Boxing is not an easy of a sport, in fact its probably the hardest. But it was the best sport for me to go towards as a British Pakistani and hopefully in the future, I will become a role model for other young fighters".
"Insha-Allah I will keep climbing up in the rankings and put myself in a position where I will become an inspiration," the new WBO super welterweight European champion added.
About his Boxing plans in coming days, Hamza — who's now ranked 15th in the world now WBO in super welterweight category — told Geo News that his next few fights will be defending the title in the new year and he's already gearing up to become the world champion.
"The message for youngsters is to keep working hard and always work harder than you did yesterday", added Hamza.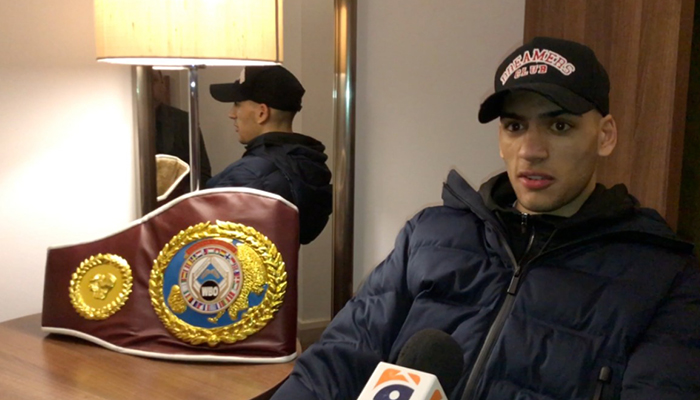 Hamza belongs to a sporting family as his grandfather was a boxer as well, his father was a cricketer, who played from Gloucestershire county, while his uncle, who's his real inspiration, was also a Boxer. 
He explained that it was his uncle who got him into Boxing, took him to a gym for the first time and taught him how to throw his first punch. He hoped that one day when he becomes the world champion, his uncle will be with him — who is currently living in Australia.
Hamza — whose ancestors belong to a small village called "Matore" in Kahuta near Rawalpindi — said that he's never been to Pakistan before but he looks forward to visiting it with his uncle.
Source Link: Hamza Sheeraz wins WBO super welterweight European title | Sports