The Pakistan Democratic Movement's (PDM) second anti-government power show is set to kick off shortly, with scores of workers already present at the Bagh-e-Jinnah in Karachi.
The PDM flexed its political muscle and held its first power show in Gujranwala on Friday, October 16, where it lashed out at Prime Minister Imran Khan and his government. 
For coverage of the last jalsa click here.
---
08:45pm — Abdul Malik pays tribute to 'all those who sacrificed their lives for a cause'
National Party leader Dr Abdul Malik pays tribute to all those who paid with their lives while defending their cause.
He paid special tribute to Mir Hasil Bizenjo. "It is with his struggle that the various Opposition parties got united."
---
7:36pm — Aijaz Dhamra pays tribute to people who died in Karsaz massacre
PPP leader Aijaz, in his speech during the jalsa, paid tribute to the people who died in the Karsaz massacre. "Through their struggle we were able to defeat dictatorship."
---
---
07:12pm — '2021 to be the year of election': Owais Noorani
JUIP chief Shah Owais Noorani says that 2021 would be the year of fresh elections.
"The Green Line project has been halted because it had Nawaz Sharif's plaque on it", Noorani adds, as he speaks of how the government has "failed" on multiple fronts.
---
---
6:50pm — Prominent PDM leaders reach Bagh-e-Jinnah
Several prominent PDM leaders have reached Bagh-e-Jinnah, including Akhtar Mengal, Mahmood Achakzai, Shahid Khaqan Abbasi, among others.
Meanwhile, according to Geo News's correspondent Kamran Razi, scores of people have reached the venue.
---
WATCH: Live from Bagh-e-Jinnah
---
07:23pm — Fazlur Rehman arrives
JUI-F chief Fazlur Rehman has also arrived at the venue and come onto the stage to wave to his supporters.
---
07:20pm — Maryam Nawaz, Mahmood Khan Achakzai join Bilawal

PML-N's Maryam Nawaz and Pakhtunkhwa Milli Awami Party's Mahmood Khan Achakzai have joined Bilawal on the stage.
---
07:18pm — Bilawal Bhutto Zardari takes the stage
PPP chairman Bilawal Bhutto Zardari has taken the stage and is surrounded by his supporters.
---
06:51pm — 'Govt will not complete tenure', says Maryam

Speaking to Geo News about what the people can expect from PDM, Maryam says that the Opposition would target its focus on the alleged rigging in the 2018 general elections and the government's current policies.
Maryam said that the government would "not complete its tenure as it has troubled the people immensely."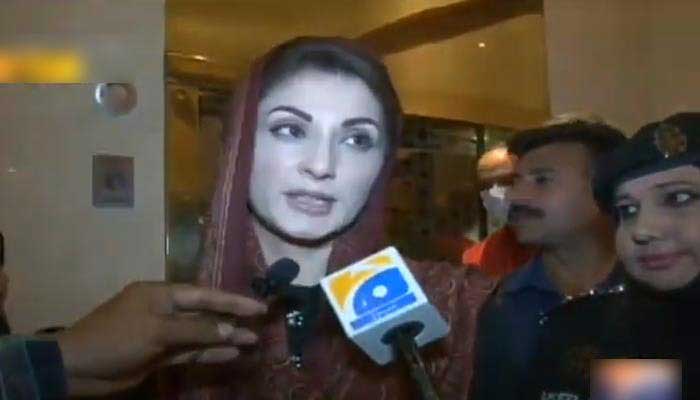 ---
06:47pm — Maryam thanks supporters for warm welcome that 'exceeded her expectations'
Maryam Nawaz, speaking to a Geo News reporter at a hotel where a pre-jalsa meeting is expected to take place, says she wishes to thank the scores of supporters that showed her a welcome that "truly exceeded her expectations".
---
06:21pm — Security appears non-existent as swarm of people storm into venue
The rally venue is jam packed with a steady stream of people continuing to storm into Bagh-e-Jinnah. Security apparatus seems to have failed with the sheer number of participants forcing their way through.
Coronavirus safety protocols are also nowhere to be found with the majority of participants standing shoulder to shoulder, maskless.
---
06:18pm — JUI-F chief Fazlur Rehman, BNP-M's Akhtar Mengal reach Bilawal House
Jamiat Ulema-i-Islam-Fazl chief Fazlur Rehman and Balochistan National Party head Akhtar Mengal have reached Bilawal House for a pre-jalsa meeting.
---
06:02pm — Participants force their way in over barriers
Participants eager to get inside the venue have ignored the walk-through gates and jumped over the barriers.
---
5:32pm — 'About to reach

jalsa

soon': Maryam Nawaz
Maryam Nawaz has said that she is about to reach the jalsa venue soon and that she would express the aspirations of the people there.
"Today is the second jalsa and the government is already shaken from the first one," she added.
---
5:10pm — Murad Ali Shah arrives at Bagh-e-Jinnah
Chief Minister Sindh Murad Ali Shah has arrived at the jalsa and is reviewing the arrangements made.
Addressing the media, he said: "The current government has failed […] None of the ministers, including Prime Minister Imran Khan are doing their job."
---
5:00pm — Maryam Nawaz's expected pre-jalsa itinerary: sources
– PML-N vice-president Maryam to arrive at a hotel
– Next stop will be Karsaz, where fateha khuwani will be held for the martyrs of Karsaz
– After that she will leave for Bilawal House
– She will then meet Maulana Fazl as well to decide who will address the gathering today
Source Link: Live updates for Opposition's second anti-PTI rally hosted by PPP at Bagh-e-Jinnah Karachi