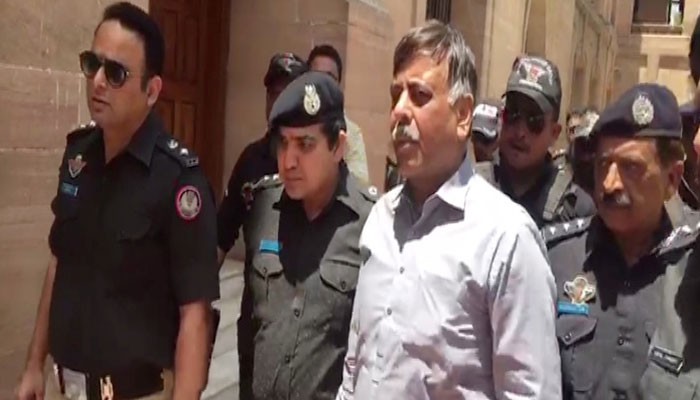 KARACHI: An anti-terrorism court in Karachi on Saturday sent suspended SSP Rao Anwar to jail on judicial remand till May 2 in Naqeebullah Mehsud murder case.
Naqeebullah Mehsud, a 27-year-old native of South Waziristan, was killed in an alleged fake encounter by a police team headed by Rao Anwar in the outskirts of the metropolis on January 13 this year. 

During a hearing of the case today, investigation officer SSP Central Dr Rizwan requested the court for time to submit the final charge sheet as enquiry by the joint investigation team had not been completed yet.
The anti-terrorism court granted time to the investigation officer and adjourned the cast till May 2.
Anwar was presented in the court today after his physical remand ended.
The court also sent to jail on judicial remand constable Shakeel, who was reportedly part of the team which killed Naqeebullah in the 'encounter'.
The ATC also extended judicial remand of former DSP Qamar Ahmed and eight others.
After the hearing when a journalist asked the suspended SSP if Naqeebullah was a terrorist, Anwar said he would respond to the question after the final charge sheet is submitted in the court.
Strict security arrangements were made, while an additional contingent of police was deployed around the ATC before the appearance of Anwar.
Naqeebullah's family and members of Pashtun Qaumi Jirga also reached the court before the hearing started.
Cases have been filed against 24 accused in the murder case of Naqeebullah. Out of the count, 11 have been arrested while 13 others are absconding.
Anwar had declared Naqeebullah a terrorist after news of the fake encounter aired on the television on January 18. A case on the incident was filed on January 19, while Anwar was suspended from duty the next day.
The Supreme Court had ordered Anwar to appear on January 27, but the suspended SSP remained on the run for at least two months. 
Rao Anwar responsible for Naqeebullah's murder: JIT findings
A Joint Investigation Team (JIT) formed under the directives of the Supreme Court of Pakistan found the suspended Malir SSP Rao Anwar responsible for the killing of Naqeebullah Mehsud and three others in an alleged fake encounter in Karachi, sources close to the matter said.
According to sources, the report detailing the probe into the killings has been sent to the ATC via post. The report reveals that Anwar arrested Naqeebullah on a tip-off from Malik Haji – a native of South Waziristan who told the ex-SSP that Naqeebullah was a 'terrorist'.
The use of geo-fencing technology established Anwar's presence at the time of the incident. He was also present with Naqeebullah when the youth was arrested, and where he was kept during captivity, the sources said.
Source Link: ATC sends Rao Anwar to jail on judicial remand till May 2 | Pakistan