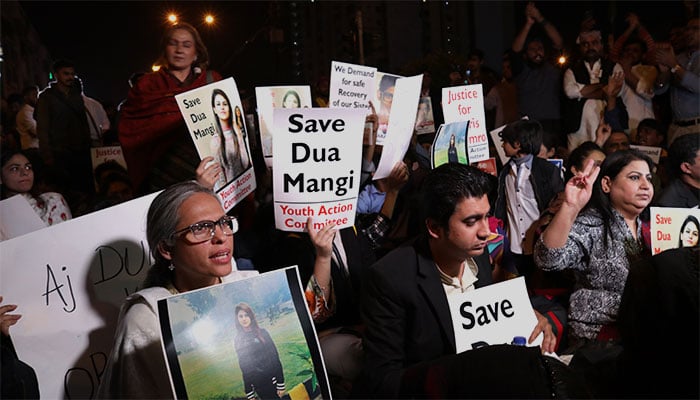 KARACHI: Furious protesters blocked the metropolis' famed Teen Talwar, or Three Swords, intersection in Clifton on Tuesday, concerned over the sluggish pace in a young woman's kidnapping case and demanding her immediate recovery.
It has been more than 70 hours and Dua Nisar Mangi's whereabouts remain unknown. Mangi was kidnapped by four armed men from Bukhari Commercial Area in Phase 6 of Karachi's upscale Defence Housing Authority (DHA) neighbourhood on November 30. Her friend, Haris Fateh Soomro, who was shot in the neck and sustained wounds in chest, is still in critical condition in a local hospital.
With no trace of the culprits and Mangi nowhere to be found, worried family and friends accompanied enraged protesters and activists to stage a sit-in at the busy Clifton junction, where they chanted against slow progress in the case and stressed on the lax security for women in the country.
Mangi's cousin, Rahul, who helped organise the protest from Lahore, told Geo.tv over the phone that the family demanded authorities "to speed up the process".
"Even the CCTV footage was checked a day later. There is an existing bureaucratic lag and we don't want that," he said. "We also want them to disclose more information because we are still clueless."
Read more: Our society needs to change its mindset and fast!
As of reporting time, authorities have said they suspect that the car Mangi's kidnappers used was the same one snatched at gunpoint from P.E.C.H.S on November 27. They have also found at least one bullet shell, as well as the mobile phones of Mangi and her friend, Soomro.
Earlier today, sources in the police informed Geo News that two more individuals had been taken into custody and shifted to an undisclosed location for questioning; however, police refuted the claim, saying they only called in two of Soomro's friends to record their statements and had not detained either.
Police also claimed to have recovered an abandoned car from Gulshan-e-Iqbal, noting that it matched the description of the car the kidnappers had used to abduct Mangi and was one that was snatched from P.E.C.H.S. on November 27.
However, it does not seem to be enough for the distraught loved ones of Mangi, who say police has failed to provide any substantial explanation and demanded answers as to why it had taken so long for those in charge to obtain useful information.
"The police told us they are investigating the case from different perspectives," Rahul, the cousin, added. "Whether it's based on monetary gain [ransom] or personal reasons [jealousy].
"They linked a car to the crime scene; however, it was a stolen car, so that's not useful either [to the case]," he added.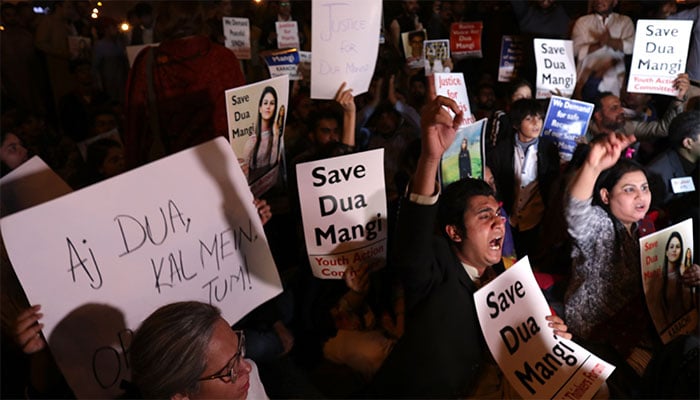 A day earlier, the station house officer (SHO) of Ferozabad Police Station, Inspector Aurangzeb Khan Khattak, had said the car was possibly the same one snatched by four armed robbers from Danial Javed, a trader, from his residence in P.E.C.H.S. Further, sources in police's investigative team had also said the car seen in the closed-circuit television (CCTV) camera footage was exactly the same one.
One of the protesters, however, said authorities were "trying their level best [to find the girl] and are co-operating". He added he was hopeful for the case to "be solved soon as we have found some clues which the police do not wish to discuss, neither do we want them to because we don't want to help the culprits with any more information.
Highlighting that the main concern right now was to find her as soon as possible, the protesters said: "Kidnappings are now happening in Defence on a regular basis; even before this, the Bisma [Saleem] incident happened [and] then another boy, Nabeel Hoodbhoy, died because of police firing.
Interestingly, the senior superintendent of police (SSP) for Madadgar-15, Syed Pir Muhammad Shah, had told a local media outlet at the time of Saleem's return that the recent DHA kidnappings "posed a challenge for the police" because they were "not equipped to respond to such cases swiftly and effectively".
Demonstrators carried placards reading, 'Aaj Dua, kal mein aur phir tum [Today, it's Dua, tomorrow, it would be you and I]', and 'Save Dua Mangi'. One of them voiced his distress at the multitude of dhabas, or roadside tea shops, in the neighbourhood, which he said were part of the problem.
"The DHA has given public spaces to the so-called "chai walas"; there are currently 74 dhabas operating in the area and all kinds of crimes and corruption happens there," he stated. "A new wave of crimes has also recently begun in Karachi because people in pick-up trucks roam around with ammunition.
"I request the Sindh government and the police to stop these kinds of people to end the fear the young generation has been experiencing."
Miraal, another young woman at the protest, infuriated over the lack of concrete progress in the case, said: "It's been more than 70 hours, how come we have no information about the kidnapping? People have been treating something so serious as if it's a drama, it's not!
"Right now, the protest is happening, and once it ends, so will the issue. It's been two days and there has been nothing so far about this girl. Nobody knows where she is and they're all focused on her clothing, what she did or where she was," she added, slamming the moral policing women face in the Pakistani society, as well as the victim-blaming, particularly by men.
Most of young folks at the protest expressed their disappointment with the law enforcement agencies, saying they did not have high expectations due to their incompetence. "Authorities need to expand their investigation as in today's world of technology," said another protester, Imran.
"I don't understand how we're still so behind."
Also read: Stolen car and possible stalker-blackmailer in Dua Mangi case
The general secretary of the Home Based Women Workers Federation (HBWWF), Zehra Akbar Khan, on the other hand, spoke of a broader problem in the system.
"We cannot expect anything from our authorities because of the way they are working right now. There is an entire mindset involved and that takes a long time to change," she said.
"The issue here is that in the name of security, a substantial amount of budget is allocated to police and Rangers and, even after that, if no one, especially girls, is safe here, then this raises questions on the work of the authorities.
A despondent protester, nonetheless, underscored another angle on the matter. "Clearly this is also a class issue. If you have money, if you have power, you think you can do anything," they said. "The only thing we have on our side is public pressure, I don't think we can do anything else."
Shireen Aejaz, one of the organisers, demanded that the Sindh government and the police department let people know what happened.
"We need to know what the government has done so far because the family is still unaware about what happened. Even if a call for ransom comes, according to family, they cannot even pay it off, and they want the government to help pay the ransom if they cannot ensure her safe return."
"As long as the government doesn't give us certainty and assurance, the protests will continue," she added.
Leaders of the ruling Pakistan Tehreek-e-Insaf (PTI), politician Farooq Sattar, and lawyer Jibran Nasir were also seen at the protest.
On the other hand, Local Government Minister Saeed Ghani — a leader of the Pakistan People's Party (PPP) — said in the provincial assembly that police had gathered some evidence in the case and that if need be, they would ask the federal government for assistance.
—Additional reporting by Qaseem Saeed, Zeeshan Shah, and Kamran Razi in Karachi
Source Link: 'Aaj Dua, kal mein': Protesters pressure authorities for Dua Mangi's safe return | Pakistan